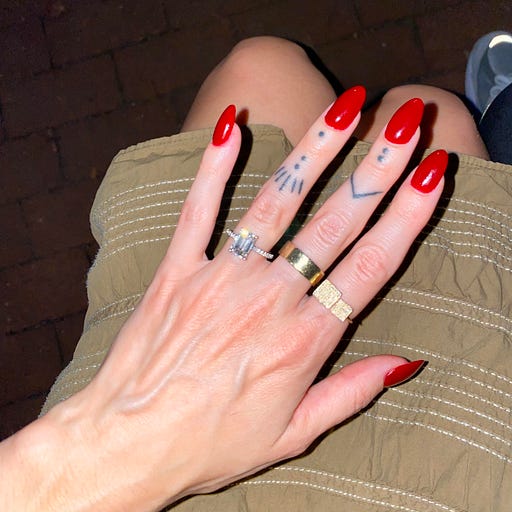 Jun 3 • 6M
So I uhhh... got ENGAGED this week???
dispatch from the center of the sexy-psycho Venn diagram
Enjoy an audio reading of this piece, or scroll to keep reading. Thank you endlessly for the well wishes.
Let me divulge the details as swiftly as possible so I don't give everything away. I'm never good at keeping special moments to myself and I want to be good at it, if only this once. 
Like, a month ago Andrew picks me up from work and asks if an emerald cut is still my favorite diamond. I never wanted a diamond, so this threw me off. For as long as we've known this shit was til death do us part, we've planned an emerald… like the green stone. Funky rock for a funky girl. He says it would make him feel like he's doing this wrong to get me anything but a diamond. Because I'm so flexible and chill and definitely not enchanted by the fact that someone thinks I deserve more than I've asked for, I accept. The imminence doesn't register until I start getting ads for engagement rings every time I open Safari.
Then like, two weeks later, he says he wants to go to Gran Caffe L'Aquila for dinner when I get back from Memorial Day Weekend in Raleigh. In this moment, I am a healthy amount of suspicious. Gran Caffe L'Aquila is where we had our first date, but I'd also just gotten gelato there with my girlfriends and he was jealous. I bury the thought, try not to get my hopes up and focus on my girls' trip. Futile. I wake up every day with a little pit in my stomach that yelps, "Today could be the day!" Every day, I remain "girlfriend." Cities burn. Angels lose their wings.
When I get back from Raleigh this past Sunday, we are predictably lovey dovey. We have a hard time being in opposite rooms, much less different states for three days (plus a delayed flight home). I'm reluctant to bring up Gran Caffe because it was his idea and Andrew rarely plans anything, so I want to see if he's for real about date night, engagement hope aside. He coolly slides in, "I still want to get Gran Caffe on Tuesday." I explain that I have a 5:30 nail appointment that day, to which he replies, "Nails don't take all night." We make a reservation for 7:30.
Getting my nails done, I gaze wistfully at my left ring finger and contemplate the reason they call it a ring finger in the first place. "The 'ring finger' got its name from the ancient belief that a vein directly connected it to the human heart, and that wearing a ring on that finger might alleviate ailments." I choose a dark red to match his tie for the wedding we're attending together on Friday.
I take my time getting cute for dinner. I just bought this great swing dress from Anthropologie that wears like a chic potato sack. I straighten the kinks out of my hair from wearing a bun all day at work, do my makeup in nice, understated shades of brown. This is how a fiancée looks: put together, but just undone enough to leave something to the imagination. To preserve the charm that tricks a man into an absurd forever.
At Gran Caffe, Andrew insists we sit at the bar, despite our reservation—precisely where we sat on our first date when he ordered the pappardelle and I ordered the chocolate mousse. We get Aperol spritzes and laugh like it is our first date (though, that's how we tend to act anyway). He takes two labored bites of cinghiale meatballs and pushes them around his plate for the remainder of dinner. 
"I had a big lunch." 
"They're kind of cold."
Perhaps that should have been the giveaway, but I remain hopeless, fully invested in my plate of creamy tagliatelle with peas and speck.
…until we leave and he suggests we take a walk to Fitler Square Park, my favorite place that I showed him on our first date. You see how this is all lining up? It's pitch black out and there are people on benches in the dreamy square, having their own private conversations about god knows what. He stops in the shadows of the fountain, almost clandestine, and hugs me tightly. It's hard to say whether anyone noticed him dropping to one knee; we both blacked out and before I knew it I was weeping in elation. Even recalling it gives me a faint body high, a psychedelic flashback to the best moment of my life that only exists in surreal terms. He didn't tell family or friends. There was no photographer hidden in the bushes. The whole production was pure and it was ours. I remember squealing, "Can we please sit down I'm so hot I can't believe this I'm so happy I can't believe this." I still can't believe it.
I go into most milestone experiences assuming they won't live up to the hype. The proposal itself was always take it or leave it for me; it was the commitment of engagement I revered. But now that I've experienced the power of the act, I see how everything works together to substantiate the magic. Sometimes being wrong is divine. 
So when did the foreshadowing begin? January 2020, date #2 over pizza, it became abundantly clear that his was the only laugh that could stir up this innocent sense of optimism within me. I was scorned by grief and here was this man, wide-eyed and automatic, just happy to learn my favorite color. I wanted to know everything about Andrew. I wanted to show him things he didn't know about himself; that was my mission from day 1, and will be for the rest of my life. After that date I texted him, "We absolutely cannot get married because then my name would be Dia Lupo which is way too close to Dua Lipa." He replied, "…now we absolutely have to." (I'll tell that story 1,000 times over.)
People tell me to savor this time. Don't get ahead of yourself wedding planning and miss out on fiancé bliss, the honeymoon of all honeymoons. But we're getting married in a courthouse, likely two years from now. I have nothing to rob me of this other than the disbelief that it's actually happening. Once I can suspend all doubt, come down from the sketchy part of the high, it's all love notes on the kitchen counter from there. And so I guess I'll love engagement the way I love airports, liminal spaces that obscure your sense of time through romantic anticipation, moments of frenzy, midday glasses of wine. What lies between point A and point B is ever my highest muse. And here I am, already inspired.
To the future Lupos, in this lifetime and the next.